Uniview Prime 1
Uniview, one of the world's leading manufacturer of video surveillance products and solutions, is introducing its new series PRIME I. PRIME I series is one of the PRIME series, featuring extremely cost-effective performance. There are more than twenty models of IP cameras in PRIME I series, the appearance includes bullet, dome, and turret.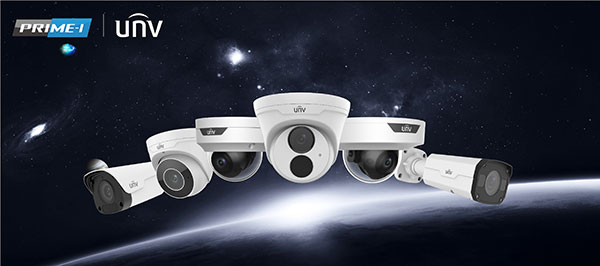 High Quality Image
Products in Prime I support 4MP@30fps or 5MP@20fps high resolution with fixed lens and motorized lens, enabling users with more options for diversified scenarios. Additionally, all these products support 120dB true WDR, ensure excellent picture quality even in intensive backlight. These features meet the demand for high quality image in the SMB market.
Excellent Hardware Design
There are abundant interfaces in Prime I cameras such as Alarm I / O, Audio I / O or MIC. Each product in the PRIME I series supports at least one of the interface, meet the needs from contractors for the actual installation. Additionally, they all support SD cards equipped with ANR, FTP and other functions which increased the data safety. The Ingress Protection Rate of most products in PRIME I reach IP66 or IP67, which greatly increased their reliability and lifecycle. The excellent hardware designs meets the requirements of the SMB market.
Outstanding Product: Cable Free IP Camera
There are two outstanding cameras in the PRIME I series which features with cable free function. Different from the configuration and installation of traditional cameras, the two UNV Prime I cameras adopt cable free and are much more easier to install. Both of them support PoE function, the network cable can be inserted into the RJ45 interface of the front panel from the bottom hole, and the cameras support side routing mode. This design facilitates the wiring construction for engineering company and reduces the overall construction cost. One of the cable free cameras has fixed lens and the other is vari-focal. The fixed camera are small and light which is designed for indoor usage. The vari-focal camera supports IP66 & IK10, which can be used in outdoor scenes.