---
---
Video and power over Cat 5e/6
Up to 5MP resolution
TVI, CVI, AHD & CVBS
RJ45 Video and Power Baluns
The Haydon RJ45 video and power baluns are the most convenient way to connect analogue CCTV cameras to a recorder using a single Cat 5e or Cat 6 Ethernet cable.
The baluns can be used to transmit video and AC or DC power over a Category 5e or 6 Ethernet cable with RJ45 connectors on each end.
The distance that the baluns are effective over varies depending on the camera resolution, the video format and the camera voltage. The table below help calculate the distance you can expect to get but as a quick example, a typical 12 volt fixed lens CCTV camera using TVI such as a Hikvision dome camera will operate with video and power at up to 75 metres.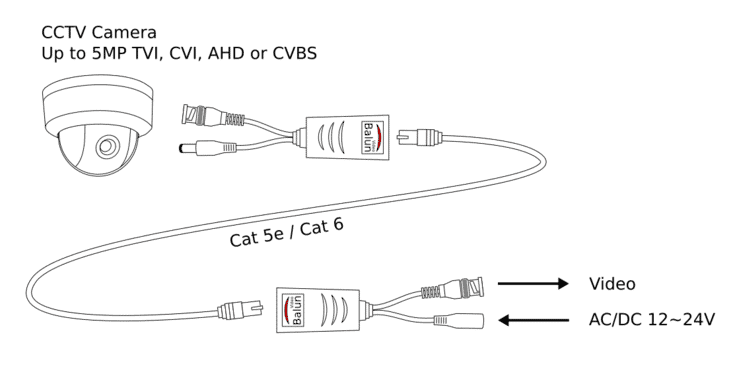 RJ45 Balun Distance Table
The table below gives examples of expected distances achievable using our HD RJ45 video and power baluns.
The calculations are based on use of a 12VDC power supply
Video format
HD-TVI
(eg. Hikvision)
HD-CVI
(eg. Dahua)
AHD
Voltage at the device
9.8VDC
8.8VDC
10.2VDC
Distance for video & power
400mA device
(eg. Fixed IR camera)
>5MP @ 75m
>8MP @ 115m
>5MP @ 50m
Distance for video & power
1000mA device
(eg. Small PTZ camera)
>5MP @ 20m

>8MP @ 30m
>5MP @ 25m
Distance for video only
250m @ 720p
250m @ 1080p
250m @ 3MP
180m @ 4MP
180m @ 5MP

440m @ 720p
250m @ 1080p
200m @ 3MP
200m @ 4MP
200m @ 8MP 4K
320m @ 720p
250m @ 1080p
200m @ 3MP
200m @ 4MP
180m @ 5MP
RJ45 Balun Wiring Specification
The below wiring specification is based on the T-568B wiring method
| Wire | Pin Number | Configuration |
| --- | --- | --- |
| Orange White | 1 | Video (+) |
| Orange | 2 | Video (-) |
| Green White | 3 | Power (-) |
| Blue | 4 | Power (-) |
| Blue White | 5 | Power (-) |
| Green | 6 | Power (+) |
| Brown White | 7 | Power (+) |
| Brown | 8 | Power (+) |
---